雅思图书五册 IELTS ACADEMIC & GENERAL TASK 2 HOW TO WRITE AT A BAND 9 LEVEL
雅思图书五册
✅ 230 IELTS Writing Samples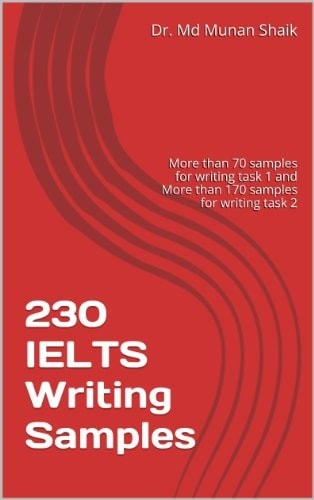 Simple book contain different levels of vocabulary focusing mainly for IELTS writing part. Those preparing IELTS, this book can help certainly to developed excellent writing skill.
Main features of this includes-
– Common mistakes in IELTS writing
– More than 60 task 1 writing samples
– More than 170 Task 2 writing samples
– Different types of IELTS letter sampls
✅ IELTS Academic & General Task 2 – How to Write at a Band 9 Level
The 2016-2017 version of this book marks the 5th update since this work was first released in 2010. The purpose of this book has always been to provide the IELTS candidate with a brief but actionable summary of how to write an effective essay in the Task 2 portion of the Academic and General IELTS exams.
This book should act as a supplement to the candidate's repertoire of IELTS Writing resources. Although a helpful guide, candidates should couple what they learn from this book with active practice and personal feedback from an IELTS Writing coach. For candidates that do not have access to guidance, free feedback may be received from the 'Post your writing' section of the IELTSNetwork.com forum.
✅ IELTS Journal, Writing Task 1 (2022 – 2023)

✅ Outsmart Your Studies: How To Study & Learn Effectively: Hack Your Memory with Faster Revision Techniques for Exam Success
The exam's coming…
… but there's SO much to know!
How on earth are you going to remember it all in time?
Good exam revision technique is rarely taught well. Even experienced students who've been taking exams for years usually don't know how to study effectively. Hours and hours poring over the books, yet relatively little sticks in memory. Surely there's a better way?
It's time to put an end to time-wasting, ineffective study and revision strategies.
It's time to understand how to really get knowledge to stick in memory.
It's time to start getting you better exam results, with less time.
Discover how to study smarter, not harder with the science of truly effective exam revision techniques. Your instructor, William Wadsworth, is a Cambridge University educated psychologist, learning scientist, supertutor and former top 0.01% student (in UK exams). He's trained thousands of students in how to study well, now he's here to help you too.
This book will help with SATs, APs, GCSEs, A-Levels, exams at college or university, and even professional exams taken as part of a career in finance, medicine and more.
You'll learn:
– How to Study & Learn Faster
– The Exam Revision Techniques that actually work
– How to Supercharge popular Study Strategies like flashcards or notes
– Memory Hacks to remember even the toughest parts of your course
Rooted in the psychology of learning but also fiercely practical, Outsmart Your Studies is packed with richly illustrated, step-by-step guides to take all the guesswork out of how to study effectively. You'll gain new confidence in your ability to take on even the most challenging of courses, and succeed in your final exams.
No more late nights in the library, or lying awake worrying.
No more frustration when find you've forgotten most of what you studied last week.
No more disappointments with your exam-day performance.
You'll love this guide, because it will give you an easier, less stressful path to exam success. Are you ready to start studying smarter?
Get it now.
✅ The Language Lover's Puzzle Book: Lexical Complexities and Cracking Conundrums from Across the Globe
This book is composed of 100 language puzzles based on more than two dozen far flung as well as familiar languages, interspersed with preamble to give more background around how the different language features came about and how they work.
While I enjoyed solving some of the puzzles, be warned that many of them (perhaps the majority) are fiendishly hard and with just a casual interest in languages you should expect to spend many, many hours working through them all. My favourite aspect of the book was in fact the prose rather than the puzzles, and I would have loved if it had been more in-depth, because fitting it all in 250 pages (the remaining ~150 pages are taken up by answers) along with the puzzles resulted in many interesting looking concepts deserving of more discussion feeling a bit rushed.
Because this book is aimed at a more general audience and not professional linguists, I would have enjoyed if the more difficult puzzles contained a bit more hand-holding or context beforehand, which would give a more realistic chance at solving some of the puzzles without resorting to reading the (detailed and thorough) answer section. For example, some of the puzzles jumped to conclusions and made assumptions which didn't feel rigorous enough to me as a non-professional linguist, but I imagine are fairly common methods among professionals. Perhaps a section dedicated to approaching this kind of puzzle would be welcomed in a future edition? Despite this, I am still giving this book four stars because the answer section was still an interesting read, and I ended up learning about some wonderful and wacky languages and their features in the process
抱歉!隐藏内容,请输入密码后可见!
请打开微信扫描右边的二维码回复关键字"关键字"获取密码,也可以微信直接搜索"58资源"关注微信公众号获取密码。
更多资源:
声明:本站所有文章,如无特殊说明或标注,均为本站原创发布。任何个人或组织,在未征得本站同意时,禁止复制、盗用、采集、发布本站内容到任何网站、书籍等各类媒体平台。如若本站内容侵犯了原著者的合法权益,可联系我们进行处理。